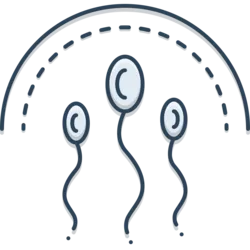 Tests For
Abnormal sperm motility

in Pune
A list of lab tests and other self-help tools for Abnormal sperm motility in Pune
What is Abnormal sperm motility
Abnormal sperm motility is the impaired ability of sperm to move normally through the female reproductive tract.
List of Lab Tests For Abnormal sperm motility
Sperm DNA fragmentation assay
Antisperm antibody testing
Ultrasound
Urinalysis
How will these tests help?
The group of tests you have been prescribed will help us understand why you have abnormal sperm motility. This includes decreased movement, decreased speed, or an inability of the sperm to swim
The first group of tests includes semen analysis, hormone testing, genetic testing, urine analysis, immunobead assay, sperm DNA fragmentation assay, and antisperm antibody testing. These tests will provide us with a comprehensive look into the quality and quantity of your sperm, as well as any underlying genetic or hormonal causes of your abnormal sperm motility
The second group of tests includes thyroid function tests, ultrasound, and urinalysis. These tests will help us to rule out any other medical conditions that could be causing your abnormal sperm motility
By conducting these tests, we will be able to gain a better understanding of the underlying cause for your decreased sperm motility.
Book Tests for Abnormal sperm motility in Pune
Pathofast offers Tests for Abnormal sperm motility at our center in Manisha Terrace, Moledina Road, Pune, Camp, India
Our lab in Pune, is known for its exceptional hygiene, polite staff and quick reports
Our Pune Center, is located close to the railway station and the Swargate Central Bus Depot, as well as the new Metro Lines
Please choose an option below to proceed with your booking:
Self Test for Abnormal sperm motility
Answer the following 3 questions to know whether you should get yourself investigated further

Are you experiencing any pain or discomfort in the testicular area

Have you recently noticed any changes in your semen volume

Have you experienced any erectile dysfunction in the past few months
List of symptoms associated with Abnormal sperm motility
Pain or discomfort in the testicles

This is usually felt as a dull ache that can come and go or be constant. It could also be accompanied by a feeling of heaviness.

Changes in ejaculate volume

Abnormal sperm motility can lead to a decrease in ejaculate volume. This could be noticed by having less semen released during ejaculation.

Changes in ejaculate color

Abnormal sperm motility can cause the ejaculate to appear different. This could be a change from a milky white to a more yellowish or grayish color.
List of home remedies for Abnormal sperm motility
Try these at home, only after consulting your doctor
Increase intake of antioxidants

Eating foods rich in antioxidants, such as fresh fruits and vegetables, nuts, and seeds, may help improve sperm motility.

grade
Take herbal supplements

Herbal supplements such as zinc, selenium, L

grade
Reduce stress

Stress has been linked to a decrease in sperm motility, so reducing stress through activities such as yoga, meditation, or regular exercise may help improve sperm motility.

grade