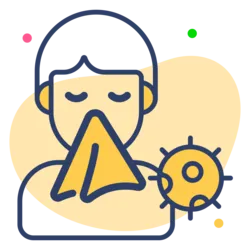 A list of lab tests and other self-help tools for nausea in Pune
What is nausea
Unpleasant, stomach-related feeling that may cause feelings of dizziness and throwing up.
List of Lab Tests For nausea
Liver function tests
Lipase
How will these tests help?
The group of tests you have been asked to take will help us better understand why you have been feeling nauseous. The tests will help provide an insight into what may be causing your discomfort
The tests can be divided into two distinct groups. The first group includes tests that will measure the functioning of your liver, complete blood count, amylase, lipase, and urinalysis
These tests will help us determine if your liver is functioning properly and if there are any signs of infection. The second group of tests includes a stool culture and sensitivity, BUN and creatinine, gastrin, thyroid-stimulating hormone, and glucose
These tests will help us determine if there are any nutritional or hormonal imbalances that may be contributing to your nausea. Overall, this group of tests will provide us with valuable information that will allow us to better understand what may be causing your nausea.
Book Tests for nausea in Pune
Pathofast offers Tests for nausea at our center in Manisha Terrace, Moledina Road, Pune, Camp, India
Our lab in Pune, is known for its exceptional hygiene, polite staff and quick reports
Our Pune Center, is located close to the railway station and the Swargate Central Bus Depot, as well as the new Metro Lines
Please choose an option below to proceed with your booking:
Self Test for nausea
Answer the following 3 questions to know whether you should get yourself investigated further

Have you been feeling queasy or nauseous in the last 24 hours

Are you experiencing any vomiting or retching

Have you been experiencing abdominal pain or cramping
List of symptoms associated with nausea
Loss of appetite

You may have noticed that you are not as hungry as you usually are, or that you dont have the same appetite for food that you usually do.

Stomach discomfort

You may have experienced a feeling of indigestion or stomach ache, or a general feeling of unease in your stomach.

Vomiting

You may have noticed that you are vomiting more often than usual, or experiencing an urge to vomit that you cant seem to control.
List of home remedies for nausea
Try these at home, only after consulting your doctor
Ginger

Ginger can be taken in the form of tea, capsules, or eating fresh ginger slices. It has anti

grade
Lemon

Lemon has a refreshing flavor that can help reduce nausea. You can drink a glass of lemon water or sip on some hot lemon tea.

grade
Acupressure

Acupressure is a form of massage therapy that can help relieve nausea by stimulating pressure points on the body. You can use a tennis ball, roller, or your fingertips to apply pressure to the points located on the wrists andor the back of the neck.

grade