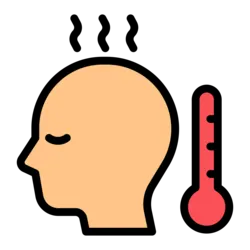 A list of lab tests and other self-help tools for Fever in Pune
What is Fever
A body temperature above normal range due to illness or infection.
List of Lab Tests For Fever
Erythrocyte Sedimentation Rate (ESR)
Liver Function Tests (LFTs)
Urea and Electrolytes (U&Es)
Urinalysis
Chest X-ray
How will these tests help?
Your group of tests will help us understand why you have a fever. The Complete Blood Count (CBC), Blood Culture, C-Reactive Protein (CRP), Erythrocyte Sedimentation Rate (ESR), Liver Function Tests (LFTs), Urea and Electrolytes (U&Es), Rheumatoid Factor (RF), Antinuclear Antibody (ANA), Urinalysis, and Chest X-ray are tests that will help us to determine the cause of your raised temperature
Group 1: CBC, Blood Culture, CRP, ESR, LFTs, U&Es These tests will look at your blood and body chemistry to determine any underlying medical conditions that may be causing your fever. Group 2: RF, ANA, Urinalysis, Chest X-ray These tests will look at other factors such as your immune system, urine, and lungs to see if they are contributing to your fever.
Book Tests for Fever in Pune
Pathofast offers Tests for Fever at our center in Manisha Terrace, Moledina Road, Pune, Camp, India
Our lab in Pune, is known for its exceptional hygiene, polite staff and quick reports
Our Pune Center, is located close to the railway station and the Swargate Central Bus Depot, as well as the new Metro Lines
Please choose an option below to proceed with your booking:
Self Test for Fever
Answer the following 3 questions to know whether you should get yourself investigated further

Do you have an elevated body temperature

Have you been feeling unusually tired or fatigued

Are you experiencing any other symptoms such as chills, sweating, or headache
List of symptoms associated with Fever
Chills

You may feel cold and shiver even when youre in a warm room.

Sweating

You may sweat more than usual, even when youre not doing any physical activity.

Body Aches

You may feel pain throughout your body, especially in your joints and muscles.
List of home remedies for Fever
Try these at home, only after consulting your doctor
Get plenty of rest

Resting will help the body fight off the infection causing the fever.

grade
Drink lots of fluids

Fluids help to keep the body hydrated, and help to reduce a fever.

grade
Take a cool bath

Taking a cool bath can help to reduce a fever. Make sure to not make the water too cold, as this can cause shivering, which can actually raise the body temperature.

grade