Book Lab Tests Online | Home Blood Test Pune
Book Online or contact us by watsapp or phone. You can also visit our center. Free Home Visit for blood sample collection is also available in all locations of Pune.
March 10th 2023
(last modified
April 14th 2023
)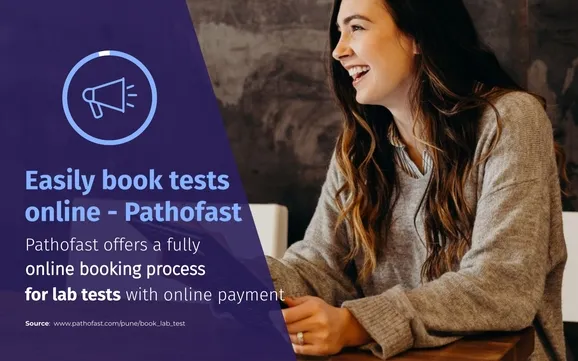 Book Lab Test Online
With our online lab testing services, you can book your lab tests online and receive your reports via email. We offer a simple and convenient online booking process, and our staff will guide you through the entire process, from sample collection to report delivery. To start your booking please click the button below
Book Now
Steps to Book Lab Test Online | Online Lab Test Pune Booking Guide
1)Book Test Online - Mobile Number

Pathofast Lab is a leading diagnostic center in Pune, offering a wide range of lab tests for various health conditions. To book your test online, enter your registered mobile number. Your account is created against your mobile number and you can always login using an OTP to view your lab reports online. You can also book lab tests again at any time using the same login method.

Book Now

2)Choose Lab Test to Book Online

We offer a panel of over 600 lab tests and packages. This includes various tests like CBC Test, Liver Profile Test, Urine Tests, Blood Group Tests and others. Choose the tests from the dropdown. Online booking is available for all 600+ lab tests.

Quick Booking Shortcuts

Price List

3)Enter Patient Details

Once you have selected the lab tests in the online booking process, enter your details like name, date of birth, gender and address. This allows the lab to find your location in case you want a home sample collection. After you enter your personal details, make sure you enter the time slot and place where you want the sample to be collected. Home sample collection in Pune is available in all areas indicated below. Please ensure you provide a time when you will definitely be available at home.

Book Now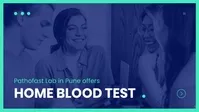 Home Blood Test - Pune
Blood Sample Collection at home or free home visit, is available in most areas of Pune city. To specifically book a home sample collection or free home visit, you must make sure to choose the "Visit to Patient Home" option while making your online booking.. Alternatively, if you are calling the lab, please make sure to indicate to the reception that you are looking for a free home visit. They will coordinate with the lab technician to visit your house. In order to learn more about how to prepare yourself for different home sample collection modalities, please visit our dedicated page at the following link Home Sample Collection Guidelines
Book Now
Home Blood Test | Home Blood Test in Pune : Things to Remember
1) Provide your home address and a landmark

Pathofast offers free home blood test visit in many parts of Pune City. We send a trained and qualified phlebotomist to your home at a time of your choosing. The most important thing to ensure that you have a seamless home sample collection experience is to provide the right home address. If you are doing an online blood test booking, make sure to provide the nearest landmark while doing your booking. Do not provide a generalized area, as the phlebotomist will have to call you in order to find your home for the sample collection

Book Now

2) Follow the pre-test instructions.

Several tests require the patient to be fasting for 10-12 hours before the blood sample is drawn. In case of such tests, the results can be affected if fasting instructions are not followed.
You can find a detailed list of such tests at the bottom of the page.

Price List

3)Check your Email/SMS for the online link

Once your entry is registered in the system, make sure to check your email and mobile number for the link to your online account and lab reports. You can click on the link to view the payment receipt, make an online payment or even download your reports. The link is valid for 10 days after your entry is made into the online booking system.

Book Now
About Pathofast Lab | Best Lab in Pune | Lab with Online Booking in Pune
Lab in Pune, Camp

Pathofast is a diagnostic laboratory located in Pune, Camp. It was established in 2018 by Dr.Bhargav Raut (MBBS, DCP). The lab has all the latest quality equipment and performs 100's of different fully automated tests on premise. We have an online booking facility as well as offerring free home blood test and free home sample collection to all parts of Pune City

Book Now

Cloud Based Reporting and Online Booking System

Pathofast offers fully online booking system for lab tests. You can go through the steps listed above, to know how to book the test. THe reports are available online on the same day, and can be downloaded using our link which you will get via Email or SMS.

Price List

Online Payment for Lab Tests

Once your tests are booked online, you can use the online payment link to make the paymet using Debit Cards, Credit Cards or your favorite UPI app like Gpay. Online payments offer an easy and cashless way to book your tests online and get instant confirmation.

Book Now
Choose Tests From the List, select a convenient time for sample collection and pay online. Instant Confirmation.
If you have a prescription from your doctor, just click on the button below to watsapp us. Our representative will guide you
Call the lab to schedule a home visit for sample collection
Landline : 020 4930 4930
Mobile : 8956690418
Visit our Center during lab hours : Mon-Sat 8 am to 6 pm. Blood samples are collected in the lab premises.
2nd Floor, Manisha Terrace, Moledina Road, Manisha Terrace, Pune, Camp