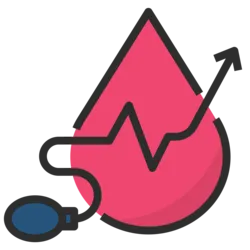 High Blood Pressure Profile - Pathofast,Pune
This package of tests can diagnose various diseases such as high blood pressure, diabetes, kidney disease, and high cholesterol. Patients with a family history of these conditions, those with symptoms such as frequent urination, fatigue, or swelling, and those with risk factors such as obesity, smoking, or a sedentary lifestyle will benefit from this testing.
Edit
Cost
The test costs Rs.2650.0
Tests In This Package
This package covers the following tests
How will these tests help?
CBC (Complete Blood Count):
The CBC test measures the levels of different blood cells such as red blood cells, white blood cells, and platelets. It helps to diagnose and monitor a wide range of conditions, including anemia, leukemia, and infections. An abnormal CBC result may indicate a need for further testing and evaluation.
Urine Routine Test:
The urine routine test is used to evaluate the overall health of the urinary system. It checks for the presence of various substances, including glucose, protein, and blood in the urine. This test can help detect urinary tract infections, kidney disease, and other conditions that affect the urinary system.
Fasting Blood Sugar Test:
The fasting blood sugar test is used to diagnose and monitor diabetes. It measures the level of glucose in the blood after fasting for several hours. This test is important in detecting diabetes early and preventing complications associated with the disease.
Kidney Profile:
The kidney profile is a group of tests that evaluate the health of the kidneys. The tests measure various substances, including creatinine, blood urea nitrogen (BUN), and electrolytes in the blood. This test helps detect kidney disease and monitor the progression of the disease.
Serum Uric Acid Test:
The serum uric acid test measures the level of uric acid in the blood. High levels of uric acid can cause gout, a condition that causes joint pain and inflammation. This test helps diagnose gout and monitor its progression.
Electrolytes Test:
The electrolytes test measures the levels of different electrolytes, such as sodium, potassium, and chloride in the blood. These electrolytes are essential for proper body function, and an imbalance can lead to various health problems. This test helps diagnose and monitor electrolyte imbalances.
Lipid Profile:
The lipid profile measures the levels of different types of fats, including cholesterol and triglycerides in the blood. High levels of these fats can increase the risk of heart disease and stroke. This test helps diagnose and monitor lipid disorders.
ACR Test:
The ACR (Albumin to Creatinine Ratio) test measures the level of albumin and creatinine in the urine. High levels of albumin in the urine indicate kidney damage and can be an early sign of kidney disease. This test helps detect kidney disease early and monitor its progression.
Do I need this package?
Let's find out whether you need the High Blood Pressure Profile. Answer the following 5 questions and get a free instant result!

Do you experience any joint pain or swelling

Has the patient noticed any changes in the color, odor, or consistency of their urine

Are you taking any medications that could affect your renal function

Do you have symptoms such as increased thirst, frequent urination, or unexplained weight loss

Have you been having any unusual bruising, bleeding or frequent nosebleeds

Do you have a family history of high cholesterol or cardiovascular disease
Do you have any symptoms of dehydration, such as excessive thirst, muscle cramps, or dizziness
List of Associated Symptoms
Here is a list of symptoms that may mean that you need the High Blood Pressure Profile. Check the list below
Related Disorders
If you already have one of the following conditions, it might be a good idea to do this package
Hypertension
Diabetes
Kidney Disease
Heart Disease
Hyperlipidemia
Gout
Anemia
Hyponatremia
Hypernatremia
Hypokalemia
Book High Blood Pressure Profile in Pune
Pathofast offers High Blood Pressure Profile at our center in Manisha Terrace, Moledina Road, Pune, Camp, India
Our lab in Pune, is known for its exceptional hygiene, polite staff and quick reports
Our Pune Center, is located close to the railway station and the Swargate Central Bus Depot, as well as the new Metro Lines
Please choose an option below to proceed with your booking:
300+ 5-star reviews on Google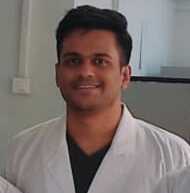 Dr.Bhargav Raut is a qualified Pathologist, with over 5 years of experience in the field
Kindly note that any mention of products, doctors or hospitals in any of our blogs/content is purely for informational purposes and does not imply affiliation or endorsement.